XYZ Projection Tool¶
The tool allows to create the projections along the x, y and z-axis in one single step.
Getting Started¶
To install the tool, drag the link XYZ_Projection_Tool.ijm to the ImageJ launcher window. Save it under /plugins/tools in the ImageJ installation and restart ImageJ.
Select the "XYZ_Projection_Tool" from the >> button of the ImageJ launcher. This will add a button to the current toolset.

A right-click on the tool button will open the options dialog of the tool. The help button on that dialog allows to display this help page.
Options¶
Right click on the tool button to open the options dialog.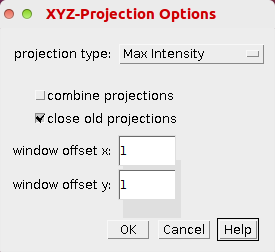 projection type - the type of the projection to use (mip, average, min, sum, std, median)
combine projections - instead of creating one window per projection, all projections are combined in a single window (does not work with hyperstacks)
close old projections - when selected previously calculated projections are closed before new projections are calculated
window offset x - the space in x-direction between two windows
window offset y - the space in y-direction between two windows
Using the tool¶
Set the options, load an image and press the tool-button. Three new windows with the three projections will be opened, except when combine is selected. Combine does not work with hyperstacks. For a time-series, a projection is created for each time-point in the series.
Results¶
Publications citing this tool¶
Omer, Safia, STUDIES OF DYNEIN ANCHORING PROTEIN IN BUDDING YEAST SACCHAROMYCES CEREVISIAE (2018). Doctoral Dissertations. 1460.
Omer, S., Greenberg, S.R., and Lee, W.-L. (2018). Cortical dynein pulling mechanism is regulated by differentially targeted attachment molecule Num1. ELife 7.