Measure Cell Surfaces¶
The toolset allows to measure the area of cells in widefield, transmission or phase contrast images. Example images can be found here.
Getting started¶
To install the tools, drag the link Measure_Cell_Surfaces.ijm to the ImageJ launcher window, save it under macros/toolsets in the ImageJ installation and restart ImageJ.
Select the "Measure_Cell_Surfaces" toolset from the >> button of the ImageJ launcher.

the first button (the one with the image) opens this help page
the m-button runs the detection of the cells on the current image (use measure from the roi-manager to measure them afterwards)
Options¶
A right click on the m-button opens the options dialog.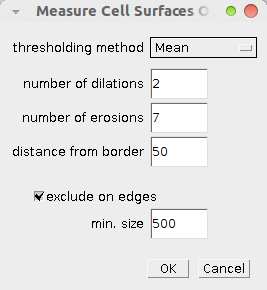 thresholding method: select the thresholding-method for the segmentation of the cells
number of dilations: number of times the dilate operation is executed to close surfaces
number of erosions: number of times the erosion operation is executed to correct the size and to disconnect touching cells
distance from border: cells in this area are not taken into account
exculde on edges: do not take cells touching the edges into account
min. size: the minimum area of a cell
Results¶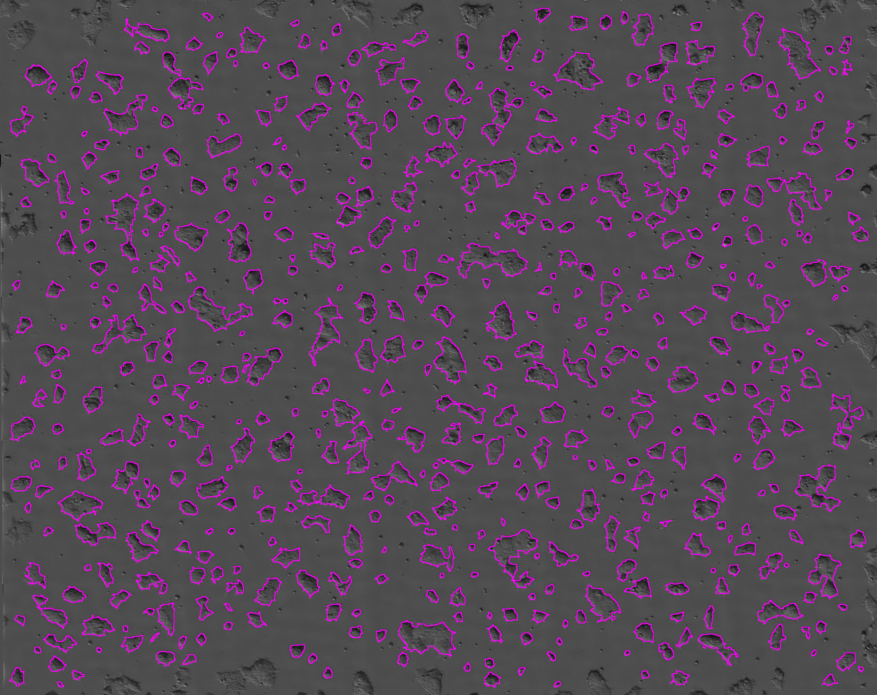 Publications citing this tool¶
Kúthy-Sutus, E., Kharrat, B., Gábor, E., Csordás, G., Sinka, R., and Honti, V. (2022). A Novel Method for Primary Blood Cell Culturing and Selection in Drosophila melanogaster.
---
Bouzidi, A., Magnifico, M.C., Paiardini, A., Macone, A., Boumis, G., Giardina, G., Rinaldo, S., Liberati, F.R., Lauro, C., Limatola, C., et al. (2020). Cytosolic serine hydroxymethyltransferase controls lung adenocarcinoma cells migratory ability by modulating AMP kinase activity. Cell Death Dis 11, 1012.
---
Lachowicz-Scroggins, M.E., Gordon, E.D., Wesolowska-Andersen, A., Jackson, N.D., MacLeod, H.J., Sharp, L.Z., Sun, M., Seibold, M.A., and Fahy, J.V. (2018). Cadherin-26 (CDH26) regulates airway epithelial cell cytoskeletal structure and polarity. Cell Discovery 4.