Lipid Droplets Tool¶
The Lipid Droplets Tool helps to segment lipid droplets marked with BODIPY. You can find some example images here:
Getting started¶
To install the tool, drag the link MRI_Lipid_Droplets_Tool.ijm to the ImageJ launcher window, save it under macros/toolsets in the ImageJ installation and restart ImageJ.
Select the "MRI_Lipid_Droplets_Tool" toolset from the >> button of the ImageJ launcher.

the first button (the one with the image) opens this help page
the s button runs the segmentation on the current image
Options¶
Open the options-dialog by right-clicking on the s-button:

min. size: objects smaller than min. size will be be considered as artefacts of the segmentation and will be removed from the result
Results¶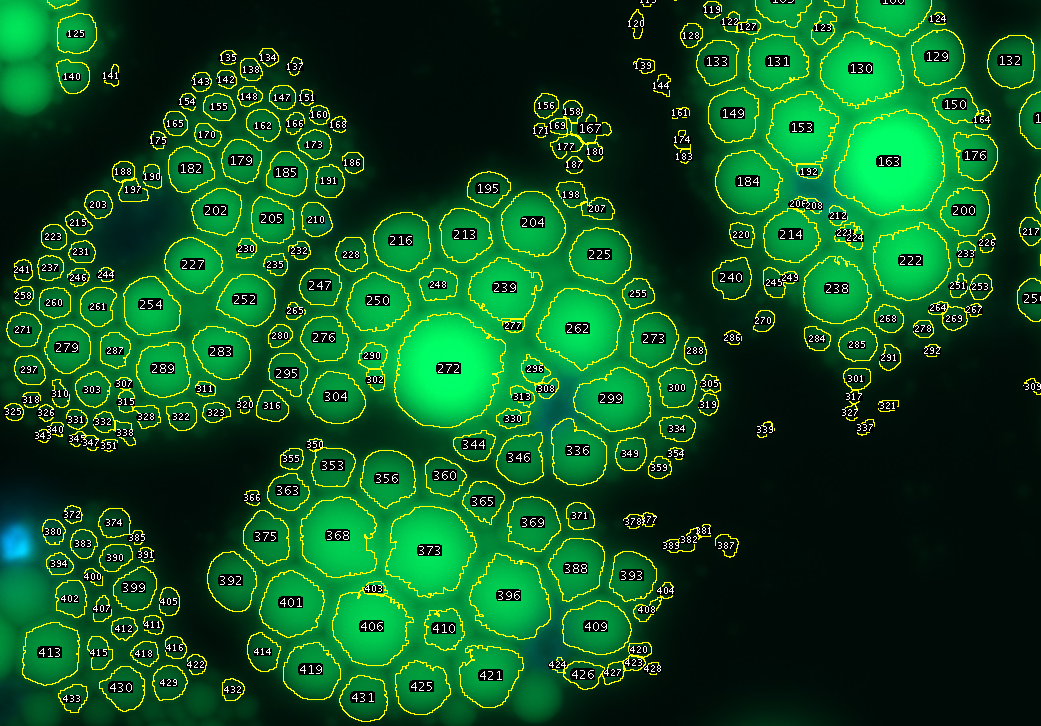 Method¶
A bandpass filter is applied to the input image by using a Gaussian filter and then scaling the image down and up again with increasing scale and taking the difference between the two low-pass filtered images. On the result an automatic threshold (percentile method) is applied. Holes in the objects are filled. An auto-threshold (triangle) is applied to the input image and the resulting mask is used to remove artefacts from the mask of the droplets image. Objects smaller then a give size are removed and a binary watershed transform is used to separate touching droplets. Objects touching the border of the image are removed.
Publications using this tool¶